Coming Together and Keeping Apart: Segregation in the Twin City
Winston-Salem is a segregated city. In 1974, the city was reported to be the second-most segregated city of the over 100 American cities surveyed, just beating out Shreveport, La.[1] Since then, things have not gotten much better. Here is a one-person, one-dot map of Winston-Salem from the Cooper Center: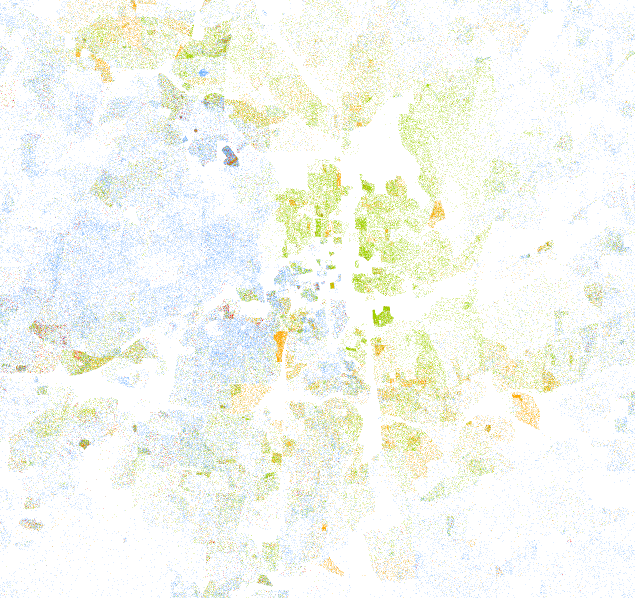 The green dots represent African-Americans while yellow dots are Hispanics and blue dots are Whites. There is a clear East-West divide that emerges.
A map of African-American populations in 2009 shows a similar pattern of segregation, with blacks clustered in the North and East of downtown Winston-Salem.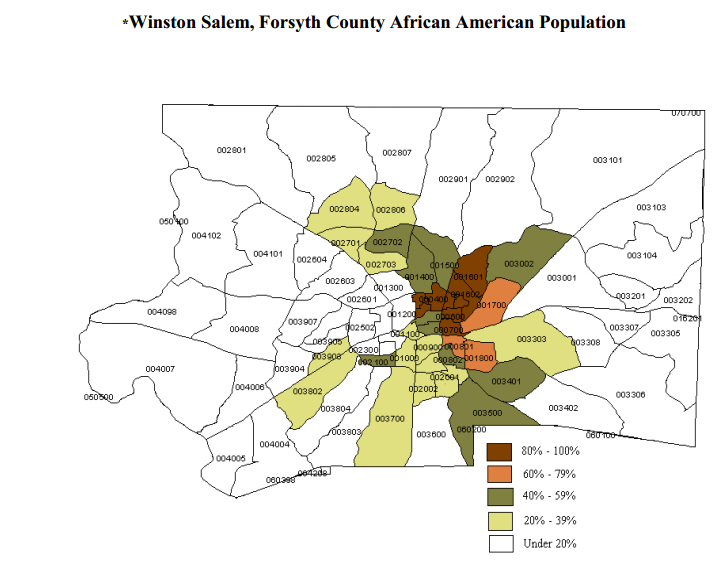 That reports labels Highway US-52 as the major dividing line and attributes segregated housing patterns to "the historical legacy of overt discrimination in housing through both public policy and social practices." The report goes on to cite 1912 city legislation and later acts.
However, the roots of segregation in Winston-Salem go back even further than that. While racial segregation became the norm across the South in the early 20th century, it manifested itself in unique ways in different areas based on those areas' respective histories. Such is the case in Winston-Salem.
Before Winston-Salem came to exist, there was just the Moravian town of Salem, a religious community that initially was unusually racially accepting. The story of the combination of Salem with the town of Winston that sprung up nearby is the story of normative economic and social policies overcoming the quaint town of Salem, which has become little more than a museum today.
Affectionately called the "Twin City," Winston-Salem came to exist when two very different communities, Winston and Salem, joined together as one city. Citizens coined the term "the Salem conscience and the Winston purse" to explain each town's benefits—the moral leadership of the Moravian community of Salem and the wealth of tobacco-driven Winston.
Though the two towns share equal weight in the combined city's name, in practice, Winston came to dominate Salem, even before the official merger. An understanding of this trend and its effects on racial policy can help illuminate the true causes of how a city known for a friendly decision to come together became so notorious for its practice of keeping apart.
To truly understand this process, one needs to go back to the late 1700s, when the founding of Salem coincided with the first time it departed from its religious ideals...